Professional Proofreading For Self-Published Books
Let our professional (human – no fancy computer software here) proofreaders get rid of spelling and grammatical errors from your book.
We specialize in removing errors and typos from books, more importantly, self-published books.
I'm betting that you have read and re-read your book countless times. I'm also betting that each time you read your book you still find errors and typos.
How many times have you read over your writing, convinced it was ready to go, only to have a close friend spot a glaring mistake in what seems like seconds of reading your book?
Now imagine the horror of self-publishing only to have reviewers and readers pick up your mistakes. How can you present a picture as a professional writer if you are publishing error ridden books?
We CAN help you to avoid this pain.
To be honest, what a lot of writers never talk about is going 'error blind' for their own book. You can look at a manuscript so many times that eventually you just stop seeing the mistakes. That's when you need professional help (so to speak).
Let me keep it simple. Our proofreaders will check over your book reading each word and sentence and correct all the errors, mistakes and typos they find. They will leave you with a book that you can publish with confidence.
What You Get
Our professional editors correct grammatical errors, including punctuation, capitalization, verb tense, spelling, and sentence structure. Your document is also checked for clarity.
We use 'tracked changes' proofing tools. These tools are built into all major word processing software and allow you to see the changes we are suggesting you make. But don't worry if you have never used these tools before, we will set up the proofread so the changes show automatically, as if by magic. The result is that you remain in control and you are able to either accept/reject each change individually or accept/reject the whole lot.
We are often asked how we know if something is correct or incorrect. The answer is that we use style manuals. These are big books that lay out all of the correct grammatical usage. The manual we use will be based on your country of publication, but the most common by far is the Chicago Manual of Style. When you submit we will suggest a manual we feel best suits your readers.
Below is a screen shot of an actual proofread, as you will see it contains tracked changes, allowing you to stay in control at all times.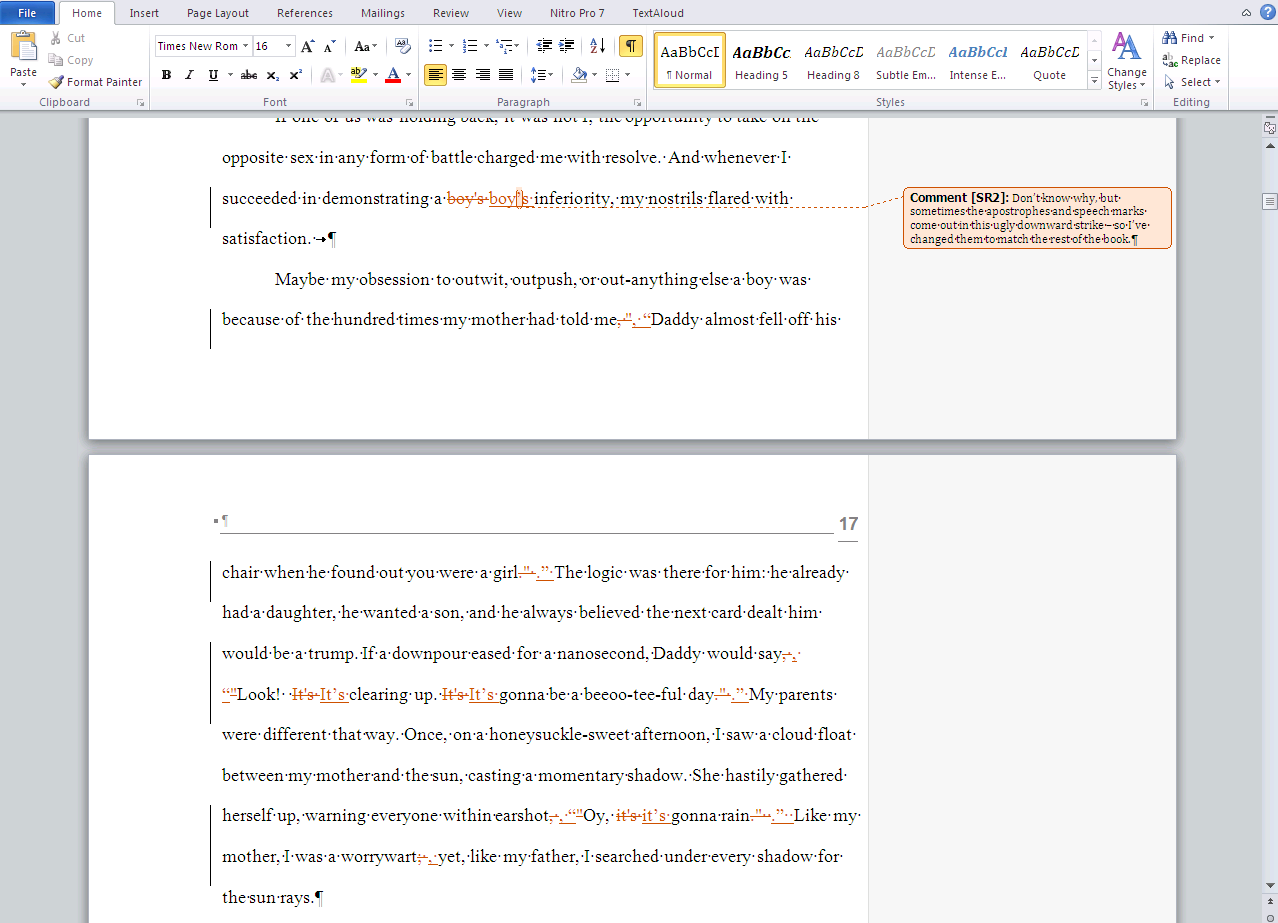 Cost of Proofreading
Our prices are all inclusive, with no hidden extras. They include the proofread, plus all support emails, phone calls etc.
Since we provide our service to any writer, no matter where they are based in the world, we can bill in three separate currencies.
US Dollars: $ 10 per 1000 words.
GB Pounds: £ 7 per 1000 words.
Euros: € 9 per 1000 words.
To work out the cost of your proofread, first divide your word count by 1000 and then multiply by your currency. For example, a 50,000 word novel would be (50/1000 * 10) $500.
Examples of Proofreading Costs
| Word Count | $ (US) | £ (UK) | € (Euro) |
| --- | --- | --- | --- |
| 10,000 words | $100 | £70 | €90 |
| 50,000 words | $500 | £350 | €450 |
| 100,000 words | $1000 | £700 | €900 |
So what happens?
Let's say you are ready to go, what can you expect to happen?
1 - You fill out the form below.
2 - We send you an email invoice. You pay either using your card or PayPal.
3 - We proofread your book and return within 21 working days.
Since 2007 we have edited more than 800 books and novels. See some of examples of these books.
Discover what self-published writers are saying about BubbleCow and our editing.
Read the answers to the mostly common questions about BubbleCow and editing.